Traveling For IVF: Jeanette's Story
Jeanette had suffered for over 20 years with fibroids and endometriosis, both of which can negatively affect fertility by blocking the fallopian tubes, weakening the uterine wall, and causing several other infertility factors. According to the Journal of Assisted Reproduction and Genetics, about 30-50% of women with endometriosis are infertile.
Jeanette sought out treatment from her local OB/GYNs and specialists in Cedar Rapids, Iowa, but those doctors refused to perform a myomectomy on her, which would allow her to keep her uterus intact. They insisted that her condition was so severe that she needed a hysterectomy, a procedure to remove her uterus, effectively ending her hopes of carrying a child."
"I absolutely refused to accept that I will not have my own children. Unfortunately, over those 20 years my fibroids grew large enough that I looked pregnant, with unbearable pain, heavy flow, anemia, dizziness, fainting spells and zero energy. The quality of my life hung in the balance and I desperately searched the internet for a specialist."
Researching Her Medical Care
Researching GYN surgical specialists, Jeanette found a surgical practice in Maryland that claimed to be able to operate on complex GYN conditions and preserve the patient's fertility. She scheduled a consultation then decided to travel to Maryland to undergo the surgery.
The surgeon removed 33 fibroids, the largest was 13cm by 12cm in size, as well as several endometrial growths from her uterine wall. The Maryland-based surgical specialist was able to leave her uterus intact. Now the big question was whether or not her uterus was strong enough to carry a child.
Jeanette returned to Iowa, and after allowing her body to fully recover, she visited Iowan fertility clinics and reproductive specialists to find out when she could try and get pregnant. Time and time again, she was told that getting pregnant could be fatal for her. A local university hospital surgeon said her uterus wasn't viable and if she tried to carry a child her uterus could split. That doctor even reprimanded her for getting the surgery with a man he considered unsafe.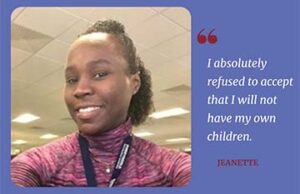 Not to be deterred, Jeanette called the Maryland surgeon and asked for help.
"After I was denied full IVF treatment at one of our local university hospitals in IA, I desperately reached out to my surgeon. He referred me to Dr. Laurence Udoff at Genetics & IVF Institute (GIVF), in Fairfax VA."
Finding The Right Specialist
Dr. Udoff conducted a consultation over the phone, and reviewed Jeanette's medical history. He was honest with her about the risks but told her that he saw no reason for her not to have a successful pregnancy. Elated, Jeanette once again boarded a plane and flew to the east coast for fertility help.
At GIVF, "I did one cycle of IVF and today I have a healthy and active toddler. My uterus was in fact viable!"
Jeanette could not be happier with her choice to travel for medical care. She learned first-hand that sometimes you need to go out of your way to achieve your dreams. Now, the mother of a two-year-old, Jeanette has traveled again to GIVF for another IVF cycle to get pregnant with her second child.
If you'd like to hear more about Jeanette's story, she was interviewed on a KWAY-AM radio show, based in Waterloo, Iowa. Listen here.
If you're interested in traveling to GIVF for our comprehensive fertility care, contact us to schedule a consultation.